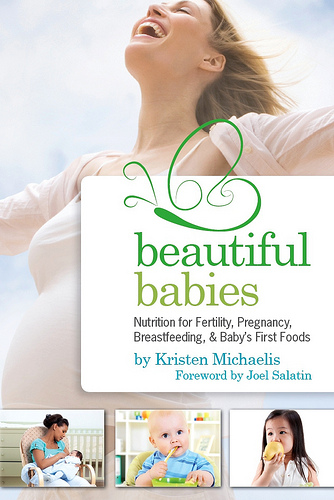 As you know I'm a doula and birth advocate, so when I was asked to read and review an amazing new book about nutrition for fertility, pregnancy, breastfeeding and babies first foods how could I resist? I just read the very insightful and read-able book, Beautiful Babies: Nutrition For Fertility, Pregnancy, Breast-Feeding and Baby's First Food, by Kristen Michaelis aka Food Renegade. This book is no hocus pocus. It's been thoroughly researched, referenced and is backed with science. But really, after reading this book (and living it's philosophy for the last little bit) it intuitively feels right. What I'm saying is, no matter which philosophy you prescribe to, Beautiful Babies makes sense.
Like Kristen, my own experience with a commitment to organic and traditional real foods began in earnest when Porter started eating his first solids. Somehow, it took 30 years for me to finally get on board that train towards eating right. They say children are great teachers, and my small baby gave me the perfect opportunity to make serious changes to the way our family eats, something I'd been wanting to do years before my son was born. I only wish I had access to this book before I got pregnant so that I could have ensured all the positive outcomes for my son that eating a traditional real food diet offers. You can be certain that with my next pregnancy (in the future) I will be following the tenets offered in this book.
Moreover, Beautiful Babies explains the ins and outs of what it means for anyone to eat a healthy diet of traditional real foods. This book may be geared for moms, but everyone will benefit from the knowledge and research that Kristen has done about nutrition and health. Beautiful Babies would make a great gift for anyone you know that's considering getting pregnant, is pregnant or has a new baby. I already know who I'm getting this book for.

The Breakdown
Part One: Nutrition For Fertility, Pregnancy, Breastfeeding and Baby's First Foods
Understand the nutrient-rich foods that healthy baby making people around the world have eaten when preparing their bodies to conceive and give birth.
Guess what? Nutrition matters when it comes to birthing babies! The right diet when pregnant can reduce your chance of a C-section, help keep baby inside for the entire 38-42 weeks of pregnancy and get this…decrease the pain of childbirth.
Did you know that you can prevent or reduce morning sickness, unhealthy cravings, stretch marks and varicose veins just by eating the right diet? It's true!
Having trouble conceiving? There are ways to increase fertility without the use of modern medicine's costly and invasive fertility treatments.
Your children can avoid glasses, ear infections and braces, and you can help that by the diet you eat while pregnant. Hint: Read the book!
The how-to's of breast-feeding are covered as well. For those parents who aren't able to breastfeed, Kristen teaches you the in's and out's of how to make homemade, natural and nutrient dense baby formulas. So much better than the store-bought. This part blew my mind!
Part Two: Recipes For Sacred Foods
The recipes provided are all safe and healthy for babies, but in no way are you expected to become a short order cook. The snacks, meals, condiments and beverages are tasty treats for the whole family to enjoy.
The Experts
Joel Salatin of Polyface Farms (a real hero to me, he's right up there with Ina May Gaskin) says:
"I find Kristen's feisty spirit and mischievous humor both empowering and liberating. As a dad of two, husband of one, and grandfather of three, I covet these historically proven and normal principles for every family on earth. I wish this book had been around when my wife, Teresa, and I were starting our family."
Dr. Jill Tieman, a doctor of chiropractic care and a clinical nutritionist:
"Before civilization, humans once had an innate intelligence about what was edible in their environment and how to prepare it in order to extract the most nutrition from it. Kristen Michaelis walks you through the minefield of conventional nutrition babble to the safety of what thousands of years of cultural traditions have shown: that vibrant health comes from eating what our ancestors ate—unprocessed foods from animals raised as they are supposed to live. This is correct nutrition that needs to be taught in every household and school and handed down from parents to children. This book should be required reading for all parents and those contemplating parenthood."
Dr. Cate Shanahan, author of Deep Nutrition: Why Your Genes Need Traditional Food, said this about it:
"Kristen Michaelis can help rescue your child from the quagmire of unhealthy baby formulas, cereals, and jarred foods and teach you how to implement a nourishing lifestyle that is your child's best immunization against illness. I see many happy babies growing up on these kinds of real foods, and I would like to see more."
About The Author
Taken straight from her blog Food Renegade:
I am a rebel. I like to eat red meat. I think butter is good for me. I drink my milk raw. I avoid pre-packaged foods like the plague. I don't believe the health claims on food labels. And, I like my food to be fresh, wholesome, and traditional.
I'm a wife, a homeschooling mother, a nutrition & wellness coach, and a passionate advocate for what I call "real food" — as opposed to the edible food-like substances which dominate America's food industry today.
Influenced by the research of Sally Fallon and Mary Enig, the work of Weston A. Price, the voice of Michael Pollan, and the heart of the agrarian poet Wendell Berry, I am an empowered woman. And I'm determined.
Pre-order Special
Guess what? You can pre-order you copy of Beautiful Babies: Nutrition for Fertility, Pregnancy, Breast-feeding, and Baby's First Foods before March 18th and get FREE enrollment in the Beautiful Babies online nutrition class — a $199 value! Order now, then email your Amazon receipt to booklaunch@foodrenegade.com to receive your coupon for FREE enrollment. Now that's cool.