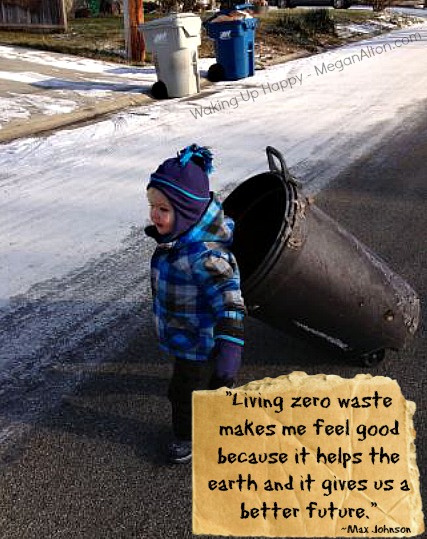 It all began with this simple Sunset Magazine article a few years back.  I wrote a little about it in this post, and it's time to lay out more about how I'd like to reduce the waste we put out. The Zero Waste Home method: Refuse, Reduce, Reuse, Recycle, Rot.
Refuse
I'm notoriously bad a refusing just about anything. Sales people, food, goodie bags, free pens… maybe I'm not so good at saying no.
Here are a list of items that I could easily say no to:
All receipts

Samples
Taking business cards
Free samples at the dentist, like I need 4 mini flosses when I have plenty at home
What I have started to refuse:
Appointment reminder cards – instead everything goes right into my phone calendar

Junk mail – easy! Using the Paper Karma app on my phone I just take a picture and send it in and the junk mail magically stops coming. This does take some persistence though.

Candy and treats often offered to my son. Not too hard since he doesn't eat a lot of sugar.

Paper/plastic bags at the store. In the rare event that I forget my reusable bags I try to put as much in my purse and arms that I can fit. 
Reduce
This is a category that I'm good at. As a shopaholic with an Amazon addiction who has a hard time refusing, I've obviously got a lot of stuff. Plus we've lived in our home for 8 years now and after that much time things start to get hidden behind other things and stuck in the dark corners of closets and tall shelves. We've been working on this for the last year or so, and it's especially hard with a toddler who is constantly growing out of items and simultaneously getting new ones.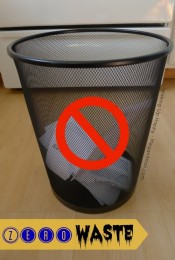 Areas to work on:
Getting rid of old baby toys. It's easy to hold on to them with the knowledge of a second baby in the future, but my mind knows that I can always find items at thrift stores and that a baby doesn't truly need stuff. Especially if there will be a big brother in the picture.
Clothes. Since I've started losing weight I already notice my clothes actually fit. Soon I'll be growing out of them and when that happens I'm quickly donating or consigning them. I'm desperate to have a functional mini-wardrobe.
In the kitchen I need to get rid of tools/appliances that only get used once a year. I know how to do most everything in the kitchen with my staple tools and I'm beginning to think we don't need our microwave. I know I'll get grief for it though so it's harder than it seems.
In the bathroom I have a date with the space under the sink. There's a plethora of items that go untouched, i.e. old makeup, nail polish, lotions/potions, tampons (I use a Diva Cup), hair cutting machines and assorted items with cords. Haven't touched them in ages and I'd really like to store my TP down there.
Closets hold a lot of chotchka. Having been a teacher there's any assortment of fairy wings, witch hats, swathes of fabric and who knows what. I know plenty of teachers who could put it all to better use than my closet.
Office space. Find a home for everything and get rid of the rest.
Filing paperwork, that's a chore that I'm not looking forward to, bleck.
Laundry/catch-all room. Since we don't have a garage and our shed is for outdoor item this room is in dire need of organization.
It would be nice to get down to one car, but that's not happening for the forseeable future. The bike will definitely be brought out in the spring.
What we've done already:
Donated a huge bookshelf worth of books and the remainder are now in the same area. Truthfully I think I'd be ok getting rid of all my books, except the birthing ones, but my husband is an avid book collector and I feel like there needs to be a little balance. It sounds silly, even to me.
Clothes. Last year I turned all my clothes hangers in the closet backwards and when I wore an item I put it back correctly. Anything that was still backwards in June got the boot.
Shoes. I got rid of anything that wasn't comfortable and I don't miss a single pair.
By composting our kitchen scraps I've downsized our garbage output by HALF. I now put out my bin weekly, but half full.
Pared down outdoor tools and machinery to the basics.
Reuse
This one seems easy enough, but I've come across some surprising difficulties.
The most obvious to me is getting rid of paper towels and handkerchiefs and using reusable cloths. During my experiment, even with a plethora of hand towels/rags, we were constantly running out of clean ones. With the amount of laundry I have right now it's just too much of a burden, but I'm hoping in the next year to widdle down our wardrobes enough to keep the laundry levels down.

I'm also trying to find an acceptable solution to zip lock bags especially for home-baked loaves of sandwich bread.
Since there aren't very good selections of non-dry goods in bulk I still purchase a bunch of items in glass jars, which kinda sucks and drives my husband crazy when I save so many for reuse. I don't have storage or time to can goods in the summer, so this is an issue that is need of a solution too.
Diapers, I'll admit that we didn't do cloth for the same reason as we still use paper towels.
What we're doing already:
Reusable cloth bags for groceries, produce and bulk

Glass jars for bulk food storage, i.e. cereal, nuts, crackers
Lunch bags for toting food
I started buying Porter's clothes from the thrift store and hope to do that for myself when I get into reasonable sizes
Reusable jars for water/beverages although I'm guilty of the occasional water bottle purchase
I use a Diva Cup for my moon cycle
Soaps and liquids are easy enough to get in bulk and I've started doing that, but still have to find laundry detergent that doesn't make my boys break out
The Library!
Recycle
Anything that can be recycled we do. That includes:
Plastics, paper, glass

Donating/purchasing from thrift stores
Rot
As talked about in this post, we love our red wigglers and they're loving us back.
It should be said that I know we'll never get to absolute zero, or even as close as the Johnsons, but I certainly hope to make serious changes in the way we consume.
Are you interested in getting closer to zero waste living? If so, how are you working towards that goal? Leave your answers in the comments below.
This post featured on Homestead Barn Hop, Party Wave Wednesday, Thank Your Body Thursday, Tasty Traditions, Small Footprint Friday