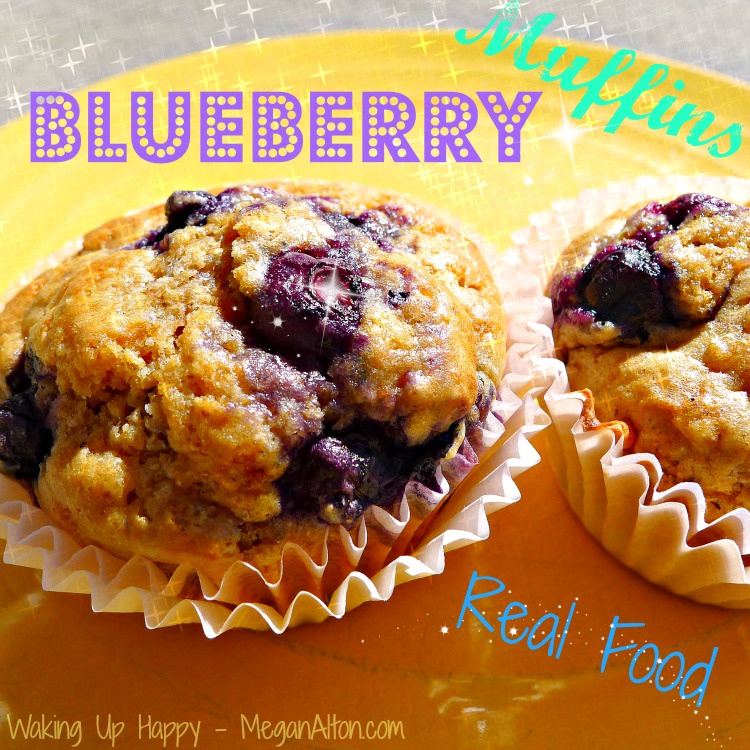 Upon waking one day my son asked for muffins. Hmm, okay. We didn't have muffins. It took me a moment, but then I realized that we had everything we need in our pantry to make blueberry muffins. They aren't crazy ingredients, it's not shocking that I had them, but in that moment I felt like the best home-maker ever. And I never have that feeling. It felt really good. Not only that, but it was easy enough to do with my 2-year-old son. And triple bonus, the hubs loves blueberry muffins above the rest. I became giddy about these muffins.
I followed the Better Homes and Gardens Cookbook recipe with my real food ingredients and they were eh, and then realized I could make them better. So I did. These aren't the overly sweet dessert muffins with giant tops that you find at bakeries. They're slightly sweet delicious treats for breakfast or snack time. You can feel good about your kids eating them too, especially slathered with butter.
Ingredients
1 3/4 cups sprouted or soaked wheat flour (If you find 100% whole wheat to be too "wheaty" for your taste, than you can cut in pre-ground Einkorn flour or white flour as the 3/4 cup)
1/3 cup coconut sugar
2 teaspoons baking powder
1/4 teaspoon salt
2 beaten eggs
3/4 cup milk
1/4 cup melted butter
1/2 teaspoon lemon extract (or vanilla in a pinch) or 1 teaspoon lemon zest
1 cup blueberries, fresh or frozen. Reserve 1/4 cup.
Make it
First things first, you should make this by hand. A mixer will over mix the batter and hand mixing will keep it light and fluffy. So get out a mixing bowl and whisk. Also, I like lining my muffin tin with cups, but if you have your own tried and true way, do that. You should get 10-12 muffins.
Preheat oven to 400*
Melt the butter and set it aside to cool.
Add all dry ingredients in a big mixing bowl and combine with your whisk. Make a well in the middle.
In a different bowl, beat the eggs and add the other wet ingredients. Make sure the melted butter isn't so hot that it cooks the eggs.
Add the wet ingredients to the dry and mix until ALMOST completely combined.
Add your berries and mix gently until just combined.
Now STOP mixing, don't over mix, it'll be better this way.
Fill muffin tins 3/4 full.
Using your reserved berries add a few to the tops of each muffin so they peek out.
Bake for 20 minutes, until golden brown.
Let cool.
If you take off the paper too soon, it'll tear apart your muffin. So, let it cool awhile before eating. My son hated this part.
The part he loved was eating them covered with butter, duh.
Now go enjoy your muffins!
This post featured on: Party Wave Wednesday, Thank Your Body Thursday, Tasty Traditions, Small Footprint Friday, Fight Back Friday, Real Food Wednesday, Family Table Tuesday, Fat Tuesday, Sunday School, Thank Goodness It's Monday