WHAT IS KNOWING BIRTH?
Here is the link to the original Knowing Birth post.
There are so many books and studies claiming to know the truth about birth, but what I've found in my conversations with mothers and birth professionals are so many unique experiences surrounding each birth. A book or study can't possibly take into account the actual voices of individuals. So what better way to find out than to simply ask.
That led me to what I call Knowing Birth interviews. I have come up with a handful of questions that, moms, dads and care providers will answer. I'll then take their answers and put them directly on this blog.
The only requirement is honesty and openness, and maybe a few pictures too. If you would like to share your experience and answers to the following questions, please email me at doulamegan@gmail.com and I will get the questionnaire to you directly. Anyone can participate and there's no judgment from me about your answers. I promise to keep a close eye on the comments and keep 'em clean.
THIS WEEKS INTERVIEW IS THANKS TO…
Meagan and Dean Visser at the blog Growing Up Herbal. Meagan is finishing up a month of writing the birth stories of her three beautiful sons: Judah, Isaiah and Uriah. I was excited to read her interview because her intuition lead her to home birth inititally, but nature lead her to the hospital instead.
On her blog, Meagan writes about parenting, natural health and how to prepare and use herbs in amazing ways. After reading her Knowing Birth interview, check out her blog at GrowingUpHerbal.com.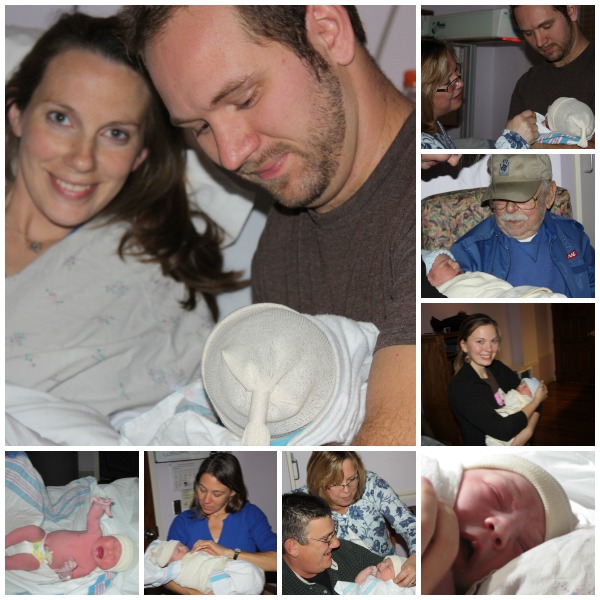 Where did you choose to have your birth and why? What are your feelings about that choice now?
I chose to have my first birth at home assisted by a local midwife because I was in love with natural health and natural living, and I wanted to incorporate more of that into my life… one step at a time. Since I was pregnant, natural birthing was the next step I could take, but I knew that if I was going to have a natural birth, I was going to go all out and do it at home. The more I learned about it, the more of a fan I became of it, and the more of a fan I became of it, the more passionate I became. To me, this was an ideal way for healthy women with healthy pregnancies to birth.
Unfortunately my homebirth didn't happen due to a very long labor with no progress so the hospital was a welcome site at that point. Not only did it help me do what I needed to do to bring my baby into this world as safely as possible, but I had a great, supportive team that allowed me to do it as naturally as possible too.

Since that first birth experience, I've had two more hospital births that have been great. I chose to go with the hospital after that first try at a homebirth because I didn't know if my other labors would be like the first… long and exhausting, and since my experience in the hospital was far better than I'd expected, I chose to do it there again… naturally of course.
I don't regret my decision to birth in the hospital even though I'm a big fan of homebirthing. At the time, with that first labor, it was the right choice due to the circumstances, and yes… I'd still love to have a homebirth. Hopefully someday I will!
How did you prepare for your birth?
Since my first birth was to be a homebirth, I took birthing classes with my midwife that talked about different aspects of natural birthing and what to expect, and I read all sorts of books about natural birthing and homebirthing.
For me the biggest thing to prepare for was dealing with the pain of childbirth. I read a couple books about it, but I must say… I was still not prepared. I'm not sure you really ever are for a first birth. Everything is totally new. You can read all about it and watch other people go through it, but until it's you… it's just not the same, especially since every birth is different.
For my second and third births I already knew what to expect and what labor was like for me so in order to prepare I read the book Husband Coached Childbirth: The Bradley Method. This made all the difference in the world for me! It helped me to learn how to work with my body (not against it) in order to get through the pain and have a natural birth.
Who was invited and present at your birth?
My husband, my mom, and my midwife have been present at all three of my births… including medical staff since I've birthed at the hospital.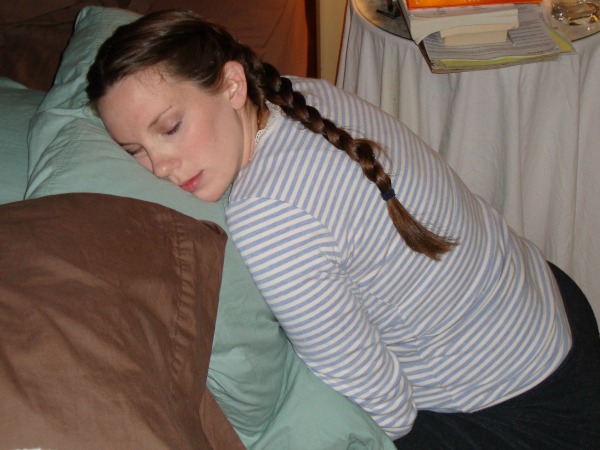 If it was not your first birth, please compare/contrast your experiences.
Wow! This would be a book. I've written my birth stories on my blog that go into detail about how each of my births went and how the differed from each other.
You can find them here:
Judah's Birth Story – http://www.growingupherbal.com/birth-story-judah-the-kid-that-almost-never-came/
Isaiah's Birth Story – http://www.growingupherbal.com/isaiah-aka-speedy-gonzales/
Uriah's Birth Story – http://www.growingupherbal.com/birth-story-uriah-almost-as-good-as-it-gets/
The biggest difference between all of them was not where I birthed (since they were all at the hospital), but how I handled labor. Like I said before, my first labor was incredibly long, but once I read about The Bradley Method and learned how to work with my contractions, not against them… I was able to have my 2nd and 3rd babies much faster and much easier than the first!
What qualifications do you look for in a midwife/OB/primary care provider?
First off, experience. I wanted to know my midwife was experienced in homebirths, and I wanted to know the statistics of the births she attended… how many were first time moms, how many had complications, how many were emergencies, etc. Same thing with my doctors. I wanted to know how hands on they were and how often they intervened during pregnancy, labor, and delivery. I wanted to know what their c-section rates were or how many of their deliveries were low-risk vs. high-risk.
Secondly, a willingness to do what's best for me. With my midwife, I didn't want someone that was "do or die" to stay home. If I needed to go to the hospital, I wanted her to say that's what she thought was best. Same thing with my doctors. I wanted to make sure I had doctors who were willing to let me do things my way as long as there were no reasons to intervene.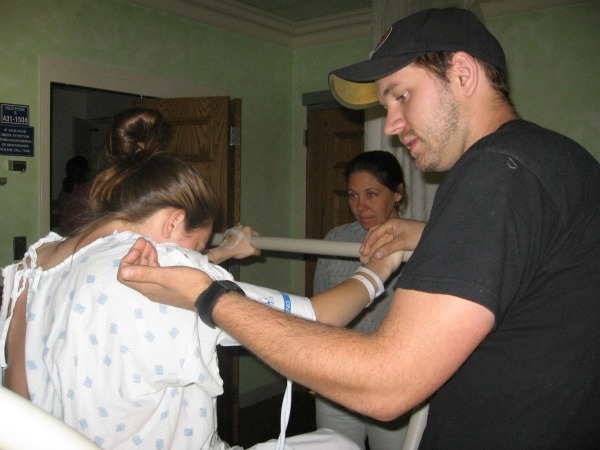 What is your ideal relationship with a birth attendant?
My ideal relationship with a birth attendant would consist of a friendship. With a midwife, that's easier than with an OB because a midwife doesn't have as many patients as a doctor does and they can spend more time with you getting to know you. I also want to feel like I can be open and honest about my questions and how I feel. Having someone who's more of a friend and there to help you through whatever you face, rather than an authority, is more ideal and helpful to me as well.
If you have received maternity care from both the medical and midwifery models of care, what are the biggest differences? Pros/cons of each?
The midwifery model is more personal and hands on. I think it looks at women and birth as a part of life, rather than an event that women need help getting through. It's more holistic. With my experience, the focus has been primarily on staying healthy and practicing things that would make birth quicker and easier on me.
The medical model is at a much faster pace and for most people there is a lack of relationship between the patient and the doctor. I feel that a lot of the things done (exams, tests, etc.) aren't always necessary, but for legal purposes, they have to cover all the bases. Same with delivery. For the most part you have to follow doctor and hospital protocols which limit you. With my experience, I chose a small practice that my midwife had worked with before and everyone had good relations and trust. I didn't have much choice in my hospital so I stayed home as long as possible before going to the hospital and being under their protocols.
In all three of my birthing experiences, I've had both midwife and medical care with good experiences on both sides. I've made sure to be informed about what all goes on. I make a point to do the best I can to stay healthy so I don't have to concern myself with most interventions. I'm not afraid to ask questions or to tell a doctor "no" about something, but at the same time I respect them and where they're coming from. I view them as a part of my team. I want them to know where I'm coming from, and I want to know where they're coming from so we can work together to make my pregnancy, labor, and delivery the best, most natural, safest thing it can be.
Did you feel adequately informed of your options?
There are many options a woman has when it comes to birth, but for the most part, with my midwife, I was informed of the many different options I had. That wasn't always the case with my doctors. Several times with my OB I would be given one option initially… the most common option or the standard way things were done. Thankfully because I'd done my part and knew about natural birthing, I could say, "Well, what about this? Surely that isn't my only choice" which would open up more options from them.
I think most times they do things the same way with everyone because most women don't know there's any other way. When you're informed and you speak up, they are willing to be flexible… most times.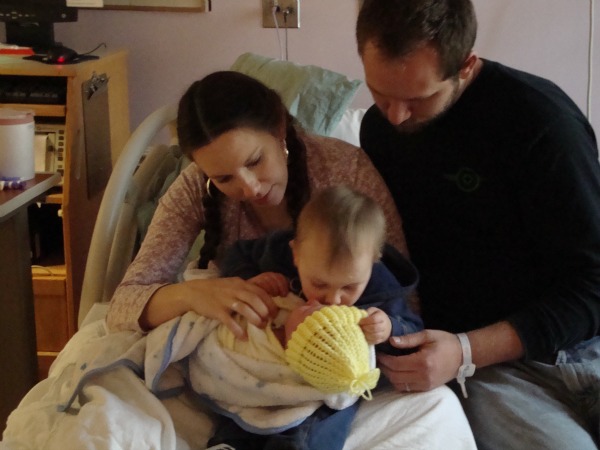 Describe your ideal birth environment at this point in time.
My ideal birth environment would definitely be at home, and if my husband and I have more children, we'll most likely choose a homebirth again seeing as how my last two births were so different from my first troubled attempt at a homebirth.
I've loved being able to labor in water with my other births so I'd definitely like to have a water birth next time around!
How do you feel about the safety of birth in a hospital vs outside of a hospital?
This one can go both ways. For the most part… if a woman is healthy and is not having any problems, I personally feel that out-of-hospital births are the safest. Of course there are things that can go wrong since we don't know exactly how a birth will play out, but if feel that there's less chance for complications from out-of-hospital births just due to the fact that midwives and doulas are trained specifically for these situations. Most doctors are trained for hospital births and how to deal with complications if they arise, and statistics show that there is a much higher rate of intervention and complications from interventions in hospital settings than out-of-hospital settings.
Is there anything you would change about public policy relating to birth/maternity care? Why/how?
If it were up to me, all low-risk women would be able to choose to birth at home or in a birth center setting, and insurance companies would cover these costs just like they cover hospital costs. This would leave high-risk women to birth in a hospital setting where they have access to the things they would need for their birth.
What do you feel were the most influential factors surrounding your birth? Why?
I was very influenced by stories I read and people I met that had had homebirths in the past. They were very encouraging, and it made me feel like it was something I could do. I wasn't alone in my choice.
Another factor that later influenced my third child's hospital birth instead of a homebirth was money. It can be expensive to have a baby at home and pay a midwife instead of having your insurance company cover the costs of a hospital birth. For my first child, this wasn't so much of a concern since I was dead-set on staying out of a hospital, but when it came to my third birth, I'd already had two great hospital experiences. So the hospital was less of a factor and money was more of one.
Who owns birth?
Wow, this is a tough one. I'm not sure that anyone OWNS birth, but if any one person owns it more than another, it's the parents seeing as how it's their lives that are effected most and their baby being born.
No one can predict how a birth is going to go, and we certainly don't have full control over the process. I do feel though, that parents and birth teams can work together to make it as safe and great as we envision it to be therefore everyone plays a part and has some responsibility in the birth.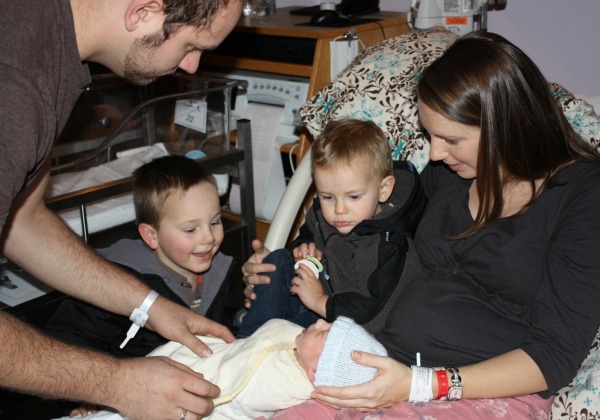 WANT TO KNOW MORE ABOUT MEAGAN?
Check out her blog Growing Up Herbal to learn about parenting, natural health and the abundant uses for herbs. Thanks Meagan for your honesty and participation!
HOW TO JOIN THE KNOWING BIRTH SERIES
Email me at doulamegan@gmail.com and I'll send you the questionnaire directly. There are no requirements, only that you have a voice about birth and want to share it openly and honestly.
THANKS FOR FOLLOWING AND BE WELL!