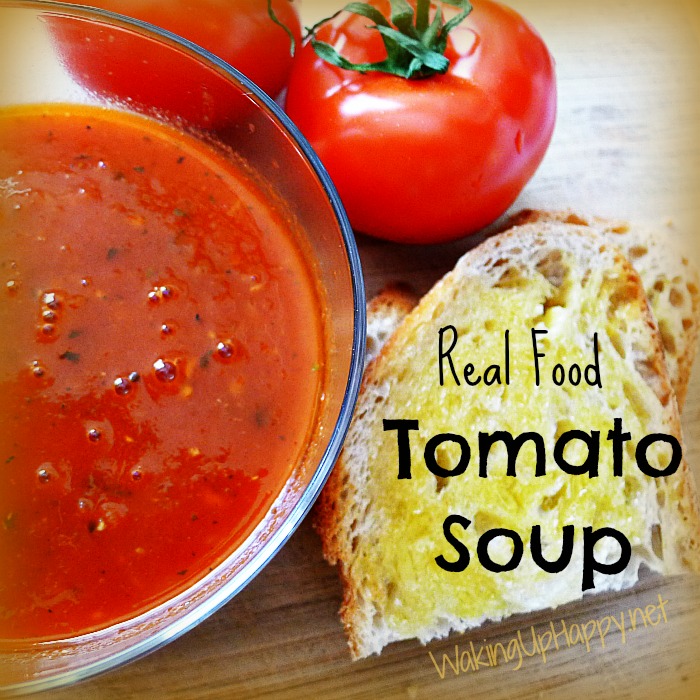 My husband has a special place in his heart for tomato soup and grilled cheese. I think a lot of people probably agree with him. In his happy memories he always ate tomato soup from the red and white can with a name that rhymes with rambles.
For years I was happy to indulge him in his love for canned tomato soup. Then came information on BPA and how highly acidic tomatos can leach it out of cans, which in turn can cause a host of problems for mammals. For the full run down you should read the Mark's Daily Apple article on canned food where he even goes as far as recommending no canned foods whatsoever.
I searched high and low for acceptable alternatives to the "rambles" tomato soup. We probably tried 10 different soups including my own homemade versions. Non of them stood up to the tangy tomato-y taste that my husband was so fond of. Plus, jarred tomatos are freakin' expensive! At my local store canned tomatos cost less than $2. Spaghetti sauce in a jar costs about $3.75 and a jar of peeled and unseasoned tomatos a whopping $9! To be fair I tried a less expensive brand from Italy, but the tomato flavor was off. I guess we're a household of tomato snobs and it's time to start canning our own.
Then I took a gander in my old school Better Homes and Gardens cookbook, circa 1984. I should have known that if I made some tweaks here and there that I wouldn't be led astray. I substituted the 14 ounces of canned tomatos for a combination of fresh tomatos and (the much less expensive) strained tomato juice in a jar. The surprise ingredient is some pre-made spaghetti sauce instead of the plain tomato sauce, which can also be found cheaply. I subbed chicken stock for water, butter for margarine, and changed the amount of herbs and…voila! The most flavorful and tasty tomato soup I've ever made. Even Luke agrees.
Ingredients
You'll need a blender, either upright or immersion.
1 onion, chopped
1-2 garlic cloves, minced
2 tablespoons butter
2 tomatoes, peeled and chopped
1 cup strained tomato juice
1.5 cups chicken broth
1 cup spaghetti sauce, try to find one without extra additives and oils
1/2 teaspoon dried basil OR 1 tablespoon fresh
1/4 teaspoon dried thyme OR 1 teaspoon fresh
salt and pepper to taste
Make It
1. In a large saucepan cook onion in butter until tender (not brown).
2. Add fresh tomatos, strained tomatos, broth, spaghetti sauce, basil, thyme, salt/pepper.
3. Bring to boil, reduce heat, cover and simmer for 30 minutes.
4. Use your blender of choice to smooth it out.
Serve with sourdough grilled cheese and enjoy!

This post featured on the following blog carnivals: Family Table Tuesday, Fat Tuesday, Party Wave Wednesday, Real Food Wednesday, Tasty Traditions, Thank Your Body Thursday, Thank Goodness It's Monday, Sunday School, Fight Back Friday