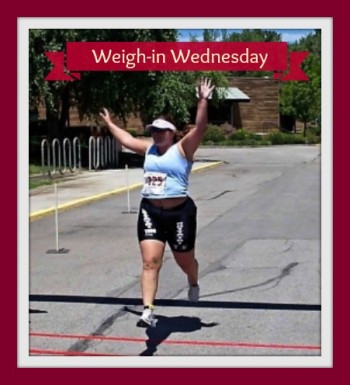 Ahh, another week has past and here we are again. This last week was full of events and hurdles to eating right and exercising, but I'm happy to report it went pretty well.
Visitors
My mother in law came to visit and that reset the Porter-Mama switch and we're all getting along better. A little time apart and we can remember how much we love each other and how much good sleep will do us all.
Birthday
My beloved turned 33 this week and we celebrated by going to the trampoline joint and getting our jump on. That's a calorie burner for sure. For dinner I made macaroni and cheese and we finished with chocolate cake.
That's right, homemade (thanks Anna!) chocolate cake with chocolate frosting. It was light and fluffy and, if you didn't know, my absolute favorite kind of cake in the world. You better believe I had a piece. I split a piece with my friend and had a dollop of ice cream. My dinner had been a nice salad with a side of gumbo. After my meal I felt nice and balanced and treated.
The Attack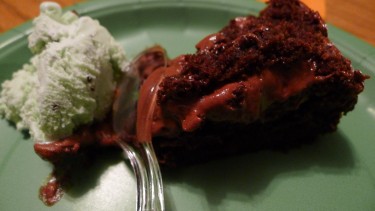 Then everyone left and the cake remained behind. You know where this is going. For about 30 minutes I avoided it. But then, like a beast, another slice jumped off the cake stand and into a bowl. It pushed me down in the chair and FORCED me to consume a second full slice of cake. I resisted, turned my head, sealed my lips.
But to no avail…it found its way down my gullet and into my belly. It only took a few moments before my jaw got tight and my tummy began to get queezy and achey. Boo. Turns out too much chocolate is (still) no bueno.
Lesson Learned? I hope so.
Not only did have to fight the guilt I now felt, but I felt sick too. I think the first time I learned this lesson I was probably 5. It's a mistake I've made countless times through my life. When will I learn??
Alas, I'm moving forward today without guilt and having learned that lesson, again. This morning I threatened to throw the rest of the cake away, and Luke gladly took it to work to share.  All in all this week was actually a success and I made such healthy choices otherwise. That's what I'm going to focus on.
| | | | |
| --- | --- | --- | --- |
| #8 2/20/13 | Last Week | This Week | Difference |
| Weight (lbs) | 247.5 | 246 | -1.5 |
| Left Leg (in) | 31.5 | 31 | -0.5 |
| Hip (in) | 52 | 51.5 | -0.5 |
| Waist (in) | 43.5 | 43.5 | 0 |
| Chest (in) | 45 | 45 | 0 |
| Left Arm (in) | 16 | 16 | 0 |
| Neck (in) | 15 | 15 | 0 |
Total lost: 15 pounds & 15.5 inches
To read the first post in this series click here.
Happy Birthday Luke!! We love you!!