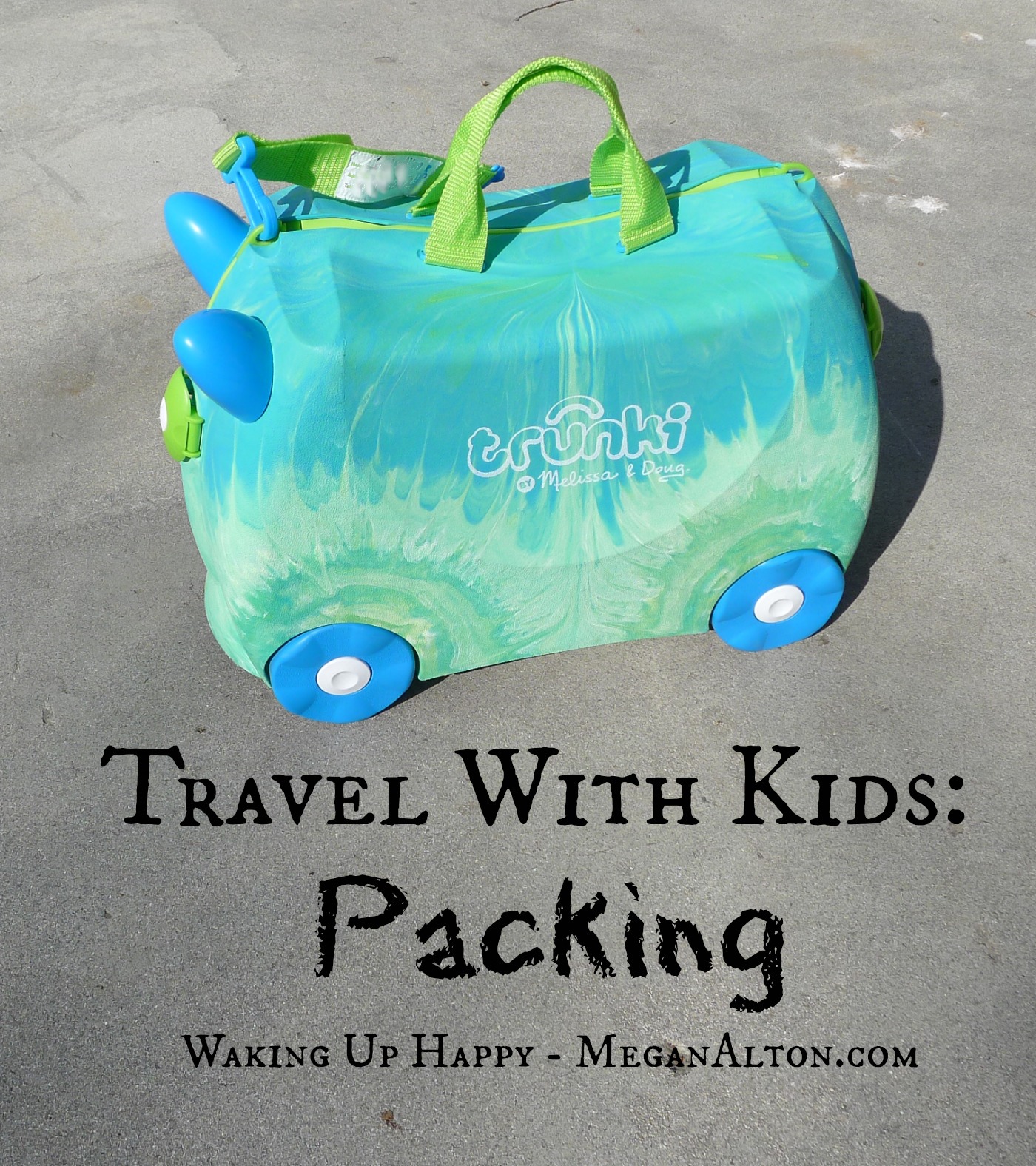 Tomorrow my son and I leave on a jet plane to Boston, which means I'm in the midst of packing RIGHT NOW. So what better way to procrastinate than to write a post on the very subject? If you're going to be flying with your young baby or child might I suggest my post about Flying With Kids, for your prep and enjoyment.
The Bag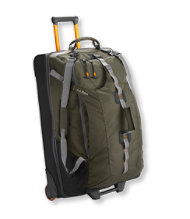 First things first, what are you going to put all this stuff into? I have a bag that I love. LOVE! It fits an insane amount of everything inside it for me and my son. It rolls, has backpack straps, has multiple pockets for stuffing odds and ends in, and is considered a duffle bag.
The difference is that it opens like a piece of regular luggage. Half is like traditional luggage and the other half is like a duffle. It's this one from L.L.Bean. We got it online, on sale (because it was red) and with a gift certificate. I think we paid $90 for it. A steal! You don't need to have a fancy bag, but if you're in the market, I highly recommend this one.
Right now ours is packed with our portable booster seat, a training potty, our toiletries, a package of diapers, package of wipes, all our clothes, 5 picture books, baby monitor, Nook (sound machine for sleeping), my son's sleep bag, our shoes, Bananagrams, and a 6″ bouncy ball. We're going to Boston for a week in the springtime this trip, but this bag has also been on a 3 week stint around Spain, 3 weeks in Maui, multiple trips to and around California, a week during the spring in Maine, camping, and will be accompanying us to Alaska later this year. Big trips, small trips, one bag and a decent carry-on/backpack is all you need.
When putting everything in your bag, step away from the traditional method of folding and stacking. Use whatever Tetris skills you have to get your items to fit. Roll, fold, lay totally flat, turn things inside out and backwards. Stuff your socks and underwear in the small spaces between other items. Lay flat items under or between clothing and nestle breakables in the middle of everything. Make use of every pocket (interior and exterior) nook and cranny. If your bag has interior straps – use 'em. Cinch those bad boys down with all your might. All packed, our bag weighs about 45 lbs. That leaves 5 pounds to spare for the TSA's 50 lbs weight limit. Boo-ya!
Consider This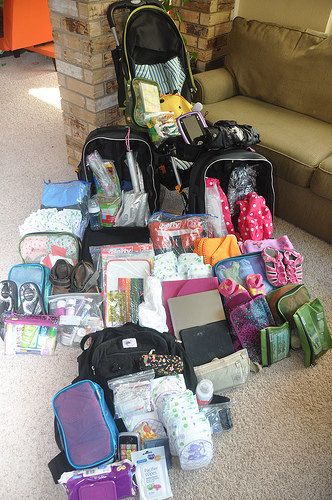 Obviously the age of your child will determine a whole lot of what you decide to bring along, but there are a few things I think are universal when packing for (or maybe with?) children.
Make lists. Include everything you plan on bringing: clothes, medicines, toys, sound machines, baby monitors, tooth floss, etc. Check them over & over. Cross off items that are packed and at the end of the day, make a final list of small items like chargers, deodorant and computers. Anything that you don't want left behind by accident.
Bring at least one outfit per day and 2 extras. It can seem like a lot, but unless you have access to a washing machine, it can save you time washing extras in the sink. I HIGHLY recommend staying in places where you can wash clothing (other peoples homes, laundromats  hotel laundering services, etc). It may take a couple hours of your vacation, but it will make everything that much nicer, I promise. I mean really, who doesn't like clean underwear??
Limit toys to 2-3 small items that don't make noise or have small removable pieces. We went on a trip for 3 weeks and I brought everything but the kitchen sink and regretted every moment of it. Not only did most of them NOT get played with, but we ended up having to ship most of them home in a boxes.
Books are good, but make sure they are ones your kids actually like. You can also take library books, but I wouldn't mention that to the librarian.
If your kid is going to watch movies or use a digital device, get them their own headsets. Earbuds suck in general and a toddler won't tolerate such ear abuse. We like these.
I'm a firm believer in kids carrying their own carry-ons, or at least dragging them behind them. Trunki's are good for younger kids because they can drag them or ride on them.
A thin or inflatable pillow is nice for small people who may, or may not, nap on the plane/car/bus/train. Or maybe you just need to cushion their elbow from continually jabbing you in the thigh or stomach while they use you as their personal Barca Lounger?
Consider the length of your journey and pack appropriate snacks/food for travel times. It'll always be healthier and cheaper this way. And bring your own empty water bottle to airports and fill them up at the drinking fountains past security.
If you're bringing medicine: according to the TSA medicine is allowed in "reasonable quantities" in your carry on. For instance, my son is anaphylactic-ly allergic to cashews so we always carry an Epi-pen with us. On airplanes I carry Benedryl as well, which is 4oz. I always present it with any other liquids and it's never been questioned. They might be put through some extra screening, but carry any important medications on you. If you're concerned, bring a doctors note too. I also bring pain reliever in my carry on and check the rest.
Car seats shouldn't cost a dime to check at the airport and will save you $$$ at your destination if you don't want to rent one. It is standard for the larger car rental companies to rent child seats at a daily rate. You can call taxi's or hire drivers that also have car seats available in most countries.
Umbrella strollers for those trips where there might be more walking than your wee one can handle. These can also be used at the airport and checked at the gate. You will have to run it through the security scanners first.
Bathing suit or cold weather gear, depending on destination.
Sunblock of choice.
Hat if appropriate.
Your portable booster seat, if you use one.
Any children's soap, toothpaste, toothbrush or toiletries your kid might use.
IMPORTANT: if you're flying make sure to bring your child's passport or copy of their birth certificate no matter how old they are, 0-18.
The Fashionable Baby 1 month – 2 Years
I'm going to assume you have a good idea of what the climate is like wherever you're travelling. Obviously pack accordingly for anytime you'll spend outside and what makes you and your child comfortable. Here's what I suggest, in general, when packing for children under two: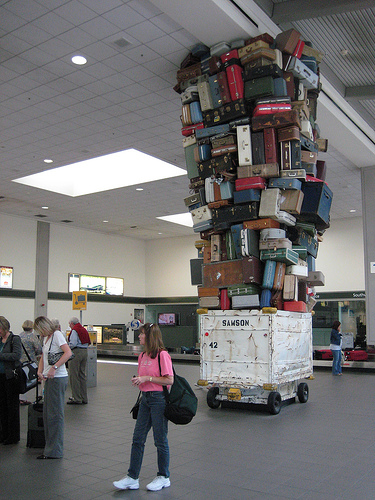 For travel dress baby in layers. Planes are either way too hot or way too cold. Be ready for both. Bring a change of clothes for baby and parent. Bring more than enough diapers and wipes and always bring a burp cloth or two.

Any sleep aids you use: baby bags or swaddling blankets, baby monitor, sound machine, any cuddly friend your baby sleeps with at home.
Breast pump, baggies, formula and bottles if necessary.
Diapers and wipes. Remember, there are probably store where you can purchase disposables once you reach your destination too.
Bibs. One per day and 1-2 extras.
Bathing suit or cold weather gear, depending on destination.
Sunblock of choice.
Hats if appropriate.
Umbrella stroller and/or baby carrier of choice.
Car seat, if not renting one at your location.
Passport or copy of birth certificate.
Any baby soap, toothpaste, toothbrush or toiletries your baby might use.
Baby carrier of choice. If you're flying, you won't be able to wear your baby in the carrier during take off and landing if your child is sitting in your lap. Don't ask, it's not allowed.
Water for nursing moms, formula for babies and any snacks or sippy cups for babies eating solid foods.
Movin' and Groovin' 2+ years
There will come a point when your child has a say in what they bring with them on trips, so I'm going with what I know here and will let you work it out with your child if you think they are ready to start making lists of their own.
If you have a delicate flower of a child who doesn't get dirty and likes to wear pretty clothes, than pack those. If you have a rough and tumble little person who you know is going to make a wreck of whatever they wear, than pack enough to get you through your trip comfortably. Better yet, stay somewhere that you'll have access to a laudramat and spend a couple hours doing laundry. It sounds like a chore, but it can significantly cut down the amount of stuff you'll want to bring.
Any sleeping aids from the 0-2 list above that will help your toddler sleep as comfortably as possible.

If there isn't a bed and your child is too big for a rental crib (like my huge child) I've packed an inflatable camping mattress and pump for some of our longer trips. It's worth it if it means your child will sleep more, and if they are prone to rolling off the bed (just sayin' it's a reality in my house) it's nice to have them closer to the ground.
Are you potty training (or something like it)? We have this portable potty at home and we bring it with us.
We tend to eat in a lot when we travel so we bring our portable booster seat. Obviously this and the potty are optional. If we didn't bring these two items we could easily pack my husbands clothes in the same bag too.
Depending on where you're travelling, bring the minimum amount of shoes and only ones you know your kid will wear.
The most important thing to bring with you on any vacation, which wil save you time and (most importantly) patience is…grandparents. If you can fit them into your luggage or even into the seat next to you, this will be the very best investment in travelling gear ever. EVER.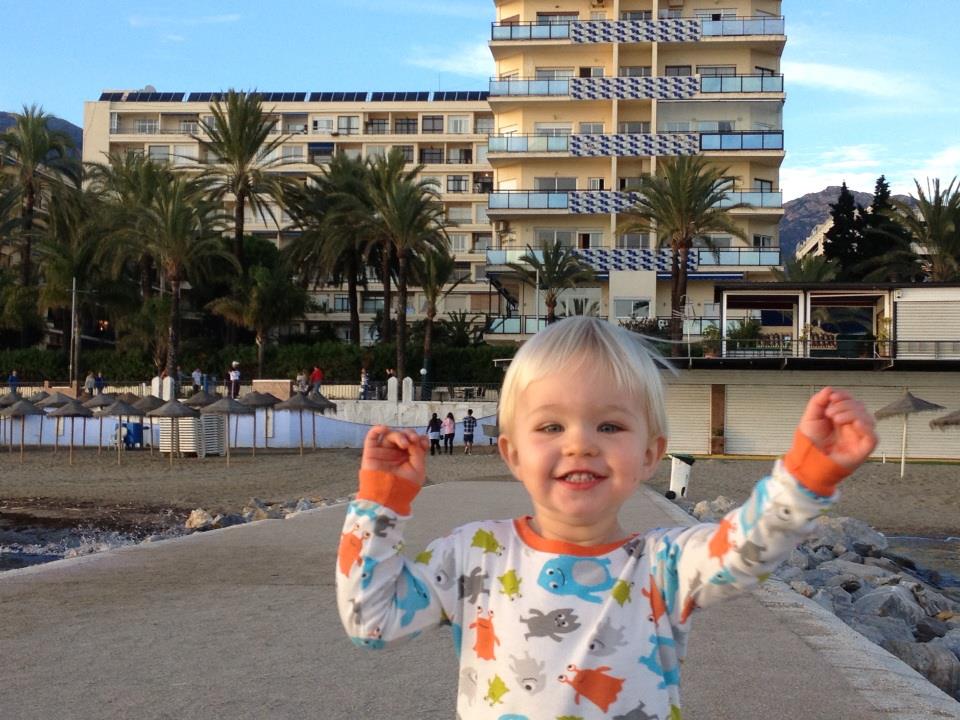 This post featured on the following blog carnivals: Party Wave Wednesday, Thank Your Body Thursday, Tasty Traditions, Small Footprint Friday